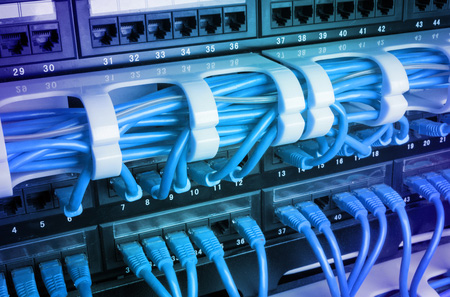 Gateway is certified to provide all of the necessary cabling and components for your Data, Voice, Video & Fiber Optic Networks. We can install almost anywhere: commercial, residential, new construction, or retro-fit.
Gateway employees take pride in each individual installation. We have a BICSI RCDD and BICSI certified technicians on staff to make sure your project meets all BICSI and TIA codes and standards. We are certified with major brands of cable and connectivity. These certifications allow most installations to be warranted for a period of up to 25 years.
Gateway works with General Contractors and Electrical Contractors on a daily basis. Call our office for a free quote on your next project. It may make the difference between your company getting the bid or your competition.
Gateway Structured Cabling Projects
Eisenhower National Airport New Terminal Building – Wichita, KS
KC-46A 1-Bay, 2-Bay, & 3-Bay Tanker Maintenance Hangar – McConnell AFB, KS
Big Brothers and Big Sisters of Sedgwick County – Wichita, KS
Residential – Derby,KS
Halstead Jr. and Sr. High School Improvements
Sedgwick County Public Safety Center – Wichita, KS
ARC Medical Training Facility – Hays, KS
Eisenhower High School – Goddard, KS
Eisenhower Middle School – Goddard, KS
National Center for Aviation Training – Wichita, KS
Warrior Zone – Fort Riley, KS
Dodge City Events Center – Dodge City, KS
Defense Distribution Warehouse – Tinker AFB, OK
Skelly Elementary – El Dorado, KS
Garfield & Lincoln Elementary – Augusta, KS